Using SignalWire and 3CX for SIP​
The 3CX softphone for Windows is a free app developed by 3CX, for use independent of the phone system. Once connected to SignalWire, the 3CX softphone allows you to make and receive calls as if it were a physical desktop phone. Keep reading to learn how easy it is to create a perfect business phone setup with ease using 3CX and SignalWire!
Configuring SignalWire and 3CX​
The first step is to create a SIP Endpoint and point a SignalWire purchased number to that endpoint. When creating this endpoint, keep the default Encryption and default Codecs/Ciphers.
You will need the password and generated domain of the SIP endpoint for the next section which will take place on your 3CX softphone app. If you haven't downloaded 3CX yet, check out their getting started guides!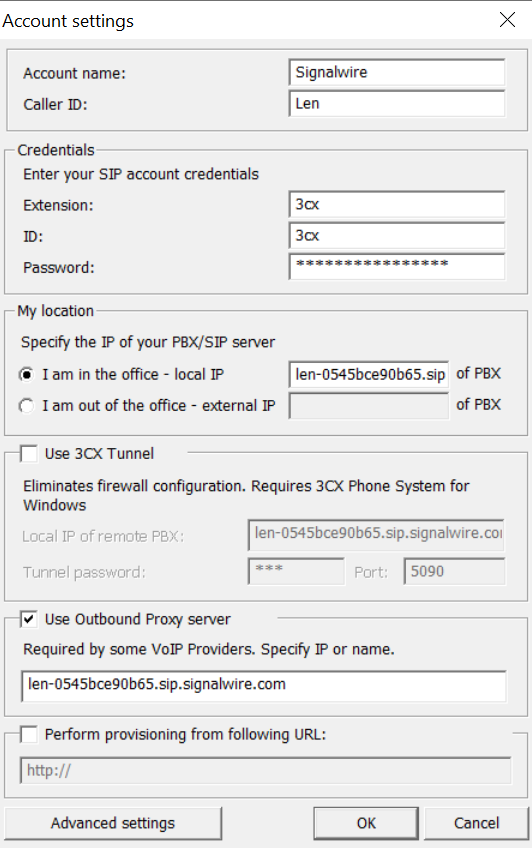 Account Settings Required Fields
Account name: This can be anything you want!
Caller ID: First name Last name is recommended, but entirely your call.
Extension: 3cx
ID: 3cx
Password: Signalwire SIP Endpoint Password
I am in the office - local IP: name-0545bce90b65.sip.signalwire.com
Use Outbound Proxy server: name-0545bce90b65.sip.signalwire.com
SIP Endpoint IP Address for I Am In The Office and Use Outbound Proxy Server
These two are generated when the sip endpoint credentials are created and it is unique to your space. Follow the steps to create a SIP Endpoint in order to generate this domain!
Once the sip endpoint is registered, "Available" will appear on the 3cx softphone.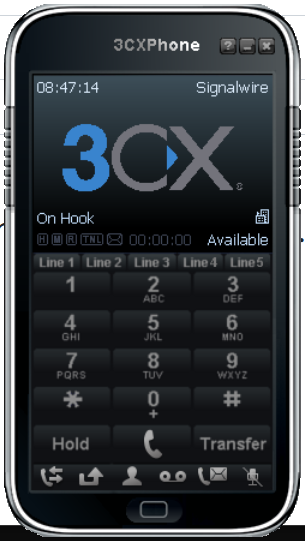 That's all there is to it - you are now set up with 3CX as your softphone and SignalWire as your VOIP provider!
Sign Up Here​
If you would like to test this example out, you can create a SignalWire account and space here.
Please feel free to reach out to us on our Community Slack or create a Support ticket if you need guidance!